Standard Poodle Litter Born September 7th, 2020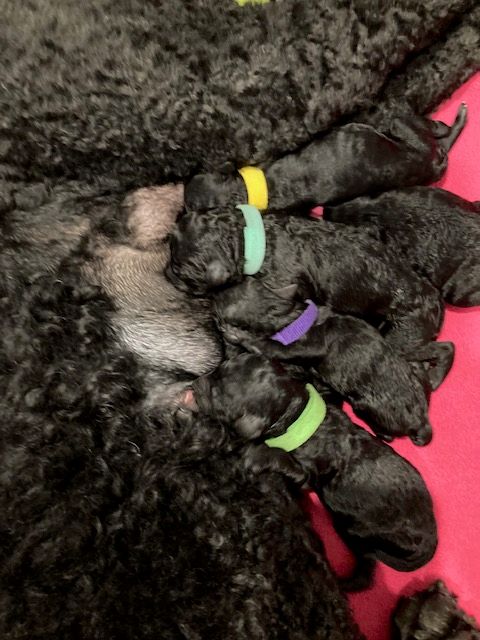 Our Standard poodle girl, Millie (CH Whisper Ridge Lady Millicent RE, TKN,CGCA,FDC) had her litter September 7th, 2020. We have 2 males and 2 females.
 Millie was bred to CH Jaset Midnight Rambler. Puppies will be ready to go to new homes early November. There are black or possibly blue (dark gray) puppies. This litter will be totally raised at our Alaska home. 
We ask $2500 for a puppy. At this time we are accepting deposits. Our deposit is $200 and is refundable or can be applied to the purchase price. We pay for AKC registration as a service to our puppy buyers. I will be posting more information on a separate page soon. We are excited to welcome this special litter! 
If you are interested in a puppy please fill our our Puppy Application to start a conversation. We welcome inquiries about our poodles. Thank you, Marian Bowser 907-398-2551 or bowsermom@aol.com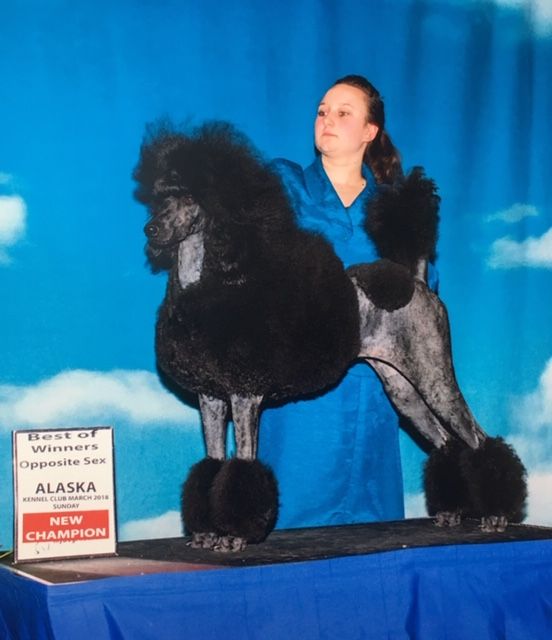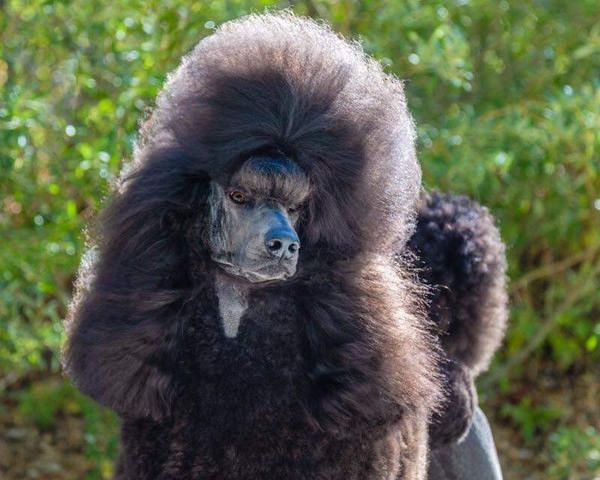 Our kennel, Whisper Ridge Poodles, and home, Whisper Ridge Farm, is located on the beautiful Kenai Peninsula in South Central Alaska. We have enjoyed the majesty of nature and the down home feel of Alaska since moving here from Florida in 1998. In 2019 we bought a second residence in North Florida. We plan to spend part of the winter in Florida. Our poodles will accompany us.

Our Standard Poodles have been an integral part of our lives for the past 30 years. Our poodles are part of our family and treated as such. We are committed to producing poodles as close to the breed standard as possible. Accordingly we show our poodles in AKC shows, obedience,rally, and agility trials. We believe our poodles should be able to compete successfully in both the breed ring and in performance venues.

We also believe in producing as healthy a poodle as possible. Our standard poodle Millie is tested for Hips-OFA or PennHip, Eyes-CERF, vWD-DNA, Cardiac-CERF,DM, & NE. For the miniatures we also do PRA prcd DNA testing, Dwarfism, and Patela. While there is never a quarantee of  perfect health when breeding; we try our best to utilize all the current health testing available to reduce the risk of producing health problems.

Recently a new genetic test became available to determine an individual poodles' genetic diversity. Standard poodles as a breed have become too inbred in some lines. This high degree of inbreeding can result in increased incidence of genetic diseases. Now we can determine how related a standard poodle is within the breed. Millie is the first poodle we've had tested and she has a great score. Her Internal Relatedness value is -0.19. An IR value of .15 suggests unrelated parents. In other words Millie has a nice low IR value compared to most poodles tested. Our goal is to try to keep the score as low as possible in future breedings. 

Currently we have one Standard and three miniature poodles sharing our household. Our standard poodle is  Millie (Whisper Ridge Lady Millicent RE CGC FDC TKN ). Our miniature poodles are Stella (CH Sunraze Stellar Dream At Whisper Ridge RN CGC FDC), Stellas' daughters Lizzie (CH Whisper Ridge Shall We Dance TKN FDC) and Evie ( GRCH Whisper Ridge Evie Just Dance RN TKN FDC). 

We invite you to contact us if you are visiting in Alaska or if you would like to learn more about our poodles.

Whisper Ridge Poodles
Marian Bowser
Tim Bowser DVM
Soldotna, AK
907-398-2551
bowsermom@aol.com

 
You are visitor number: 47251