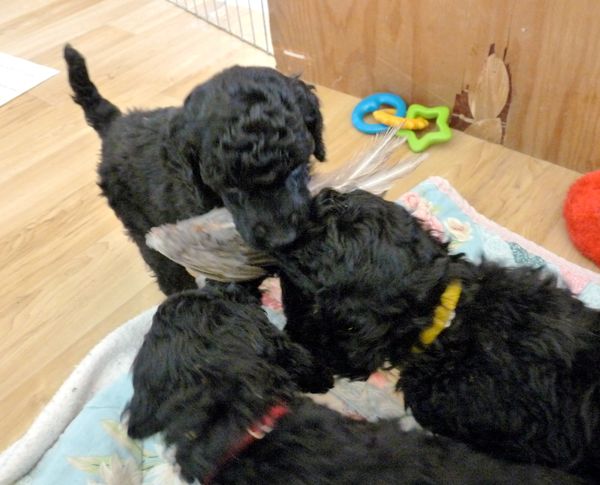 Our litters are usually raised in our home in Alaska. This year, 2020, we will be raising a litter at our Florida home. We raise one litter at a time generally an average less than one litter a year.
Early on the puppies go through brief handling exercises using the BioSensor stimulation method. This helps stimulate physical and mental growth.
Puppies are given lots of love and handled often. They are introduced to adult dogs and children. By 4 weeks of age the puppies are in a play area in our living room and exposed to normal household activities and noises. 
We deworm puppies at 2, 4, and 6 weeks of age and do a follow up fecal check close to 8 weeks of age. We do tail docking and dewclaw removal early on. My husband, Timothy Bowser DVM, is a veterinarian of decades experience. He tends to our poodles' health care needs. 
By six weeks of age the puppies are romping in a large play area in our garage with playtimes in the house. At this time puppies are given their first set of vaccines and microchipped. Puppies are also started on leash training, crate training and housebreaking. 
At eight weeks of age we have the puppies evaluated using the Volhard Puppy Aptitude Testing method. This test consists of a series of  gentle interactions. We also have a conformation evaluation performed. I use the results of the testing plus my observations to help match up the puppy with the new family.
All puppies are registered with AKC. We pay for the AKC and microchip registration as a service to our puppy owners. We do have a puppy sale contract. Pet/Performance puppies are registered with Limited AKC registration and a spay/neuter clause. Occasionally we have show or breeding prospects available with Full AKC registration. Puppies with Limited AKC registration are all welcome to compete in AKC shows in agility, obedience, rally and a host of other activities.
I am an AKC Breeder of Merit and belong to a local AKC affiliate club, the Kenai Kennel Club. I show my poodles in the breed ring and in various other dog sports. I strive to produce a healthy, well balanced poodle that will be an asset to any family. Thank you for your interest in our poodles. Marian Bowser.